By Dec 2nd, 2020, SolaX held the online launch event to release the new generation of the energy storage system, X-ESS G4. To present the All-in-one, lightweight, and powerful energy storage system.
With the rapid development of Solar Technology, energy storage system is getting into families and gradually replacing non-renewable resources. Like in Germany, about 8.2% of electricity is generated by solar power in 2019. Families can save more money on utility bills and be energy independent on their own relying on PV energy storage systems.
Energy Storage System manufacturer and designer SolaX Power envisions a clean, sustainable future powered by renewable energy, has been focusing on developing energy storage systems for decades and is devoted to making solar power easier and more intelligent for everyone to use.
On Dec 2nd, 2020, SolaX's 4th generation energy storage system, X-ESS G4 is revealed to the public. The first sight of X-ESS G4 shows its wide applicability over all aspects. Here are the six main features of the newest product in the field:
All-in-one design

30 minutes of installation time with only one person

Faster battery charging speed

High reliability

Support 150% oversized PV power and store all excess power into the battery

Perfect performance in cold temperature



All-in-one Design
Weir Guo, the director of SolaX R&D department, revealed the all-in-one designed X-ESS G4 at the beginning of the launch event. The system includes one X-Hybrid G4 inverter, one Matebox, one Triple Power Master Control and Triple Power Battery sets. Appearing of all-in-one design with a calm gray color, the system is also lightweight designed for easy installation purposes.
30 minutes of installation time with only one person
In the past, to complete an energy storage system installation, it may need 2 or 3 installers, with an average of 2 hours. But for the new system, the installation is simpler and easier. Each part of X-ESS G4 is light-weighted and can be lifted up by one person. So that installation can be carried out by one person as well. It takes only half an hour, less than half the time of the installation before. Thus, much more time and labor are saved for the installation. A higher installation efficiency also turns to a save in the cost, for both end-users and distributors.
Fast battery charging speed
SolaX has considered all kinds of circumstances for their users, like areas, temperatures, and special situations. It only takes one hour to fully charge the Triple Power Battery 3.0 battery/T-BAT 3.0. The fast-charging feature is especially useful when a scheduled blackout is going to happen, or as the sun setting down soon.
High reliability
X-ESS G4 passed all the extremely harsh tests, like the HALT test from -50 Celsius to 110 Celsius degrees, extreme temperature test and long-time salt spray test, so the system can better fit the coastal areas. Also, the system has been kept working under 60 Celsius degree to simulate a full load for longer than 3 months.
The Triple Power Battery for the Japan market, which is released earlier this year, has already passed JS JAPAN S mark, the highest safety standard for battery in Japan, SolaX maintains a high standard of reliability. The safety of Triple Power Batteries is tested and approved as well. The battery material is LiFePO4, which is the safest type of Lithium battery. After nail penetration testing, short circuit testing, and heating testing, the battery never catches on fire, or explodes, or goes into thermal runaway. Because of SolaX's unique BMS technology with algorithm, it can realize real-time SoC prediction, and ensure the safety of the battery with dual overvoltage protection and overcurrent protection. Plus, the special electric design of the battery, that is third-level protection for the battery. And this new battery is IP 67 rated, which is completely protected against dust and rain.
SolaX Power have been able to produce some of the most efficient solar energy storage systems on the market, like its 1st generation of home use hybrid inverter released in 2013, and its 1st generation of Triple Power Batter in 2018, which is 100% originally designed and manufactured by SolaX. As a global expert and pioneer on the road of the energy storage system, SolaX Power strives to continue to be at the forefront of the solar power revolution with a huge commitment to research and development ensuring its products remain the market-leading solution.
150% Oversized PV power supported and all excess power will be stored in battery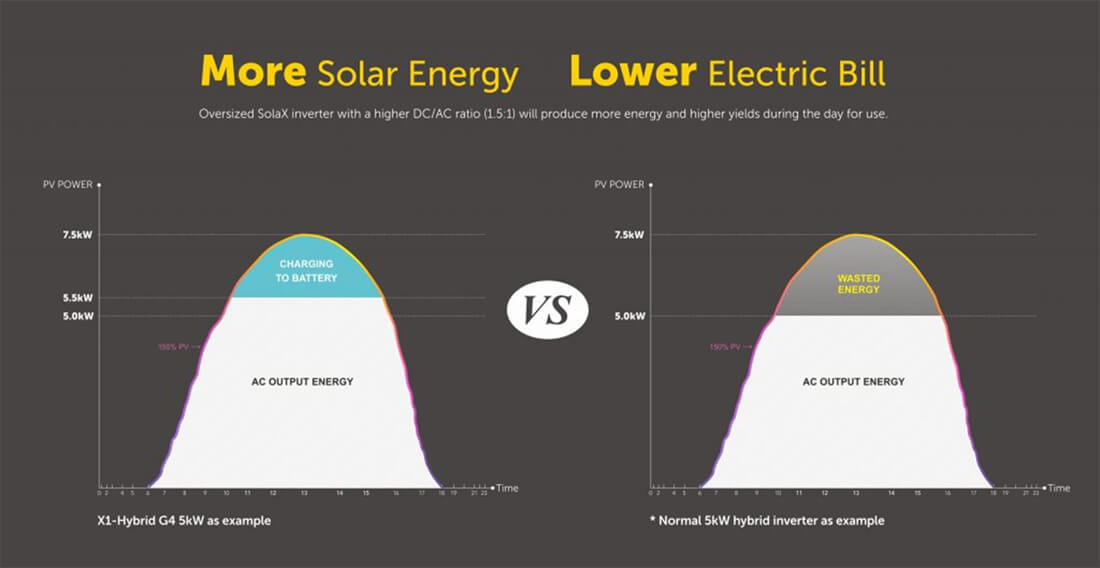 The single-phase X-ESS G4 includes inverters starting from 3 kilowatts to 7.5 kilowatts, and three-phase power ranging from 5 kilowatts to 15 kilowatts. The system allows users to install 150% power of the PV panels based on the inverter power, and users can store all excess energy into Triple Power Batteries for night use or emergency use instead of being wasted.
Perfect performance in cold temperature
Cold Temperature is definitely a disaster for any electrical product with batteries! It's breakthrough for X-ESS G4 energy storage system to work under extreme weather conditions. The Triple Power 3.0 Battery has a working temperature ranging from -30 Celsius degree to 50 Celsius degrees with built-in integrated smart temperature balancing unit to maintain a perfect working environment for Triple Power Batteries. Not only in cold temperature, with the specific feature that slows down the temperature rising, the Triple Power Batteries ensure the inverter to maintain the same high-output power for a longer period.